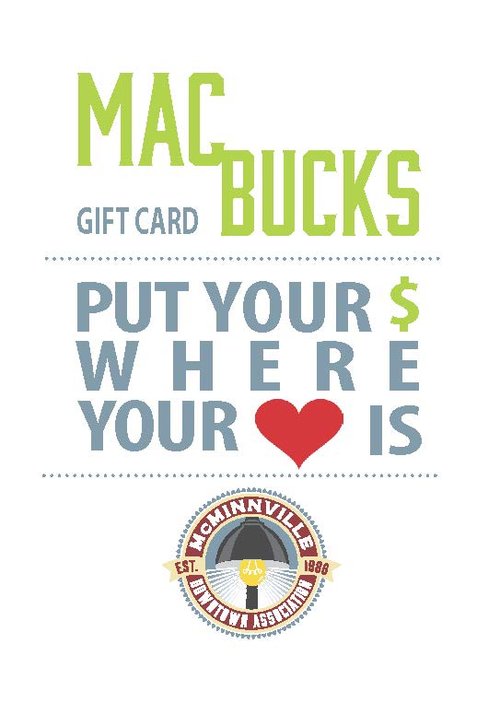 Gift the Downtown Experience
The MAC Bucks Gift Card works just like a VISA gift card and is valid at more than 50 member merchants!
The MacBucks Gift Card Program proudly facilitates $89,000 of spending in the local McMinnville economy annually. 70 cents of every dollar you spend at a local business stays in the community – meaning your Gift Card purchase helps McMinnville thrive.
To Purchase
In person: 105 NE Third Street (M-F, 10am-4pm)
To Check Your Gift Card Balance
Participating Businesses
3rd Street Flats
3rd Street Pizza Co.
Accessory Appeal
Alchemist's Jam
Atticus Hotel
Bierly Brewing
The Bitter Monk
Blue Moon Lounge
Boersma's Sewing Center
Buchanan Cellers
Cabana Club
Chris James Cellars
Cupcake Couture
Currents Gallery
Gallery Theater
Geraldis
Golden Valley Brewery & Restaurant
Grain Station Brew Works
Harvest Fresh Grocery & Deli
Hawaii 503
Hopscotch Toys & Games
Humble Spirit
Inner Oasis
Jacob Williams Winery
Joysticks Arcade
La Bella Casa
La Rambla
Left By West
Local Flow Health Bar
Los Mocajetes
McMinnville Antiques Mall
The Merri Artist
Mes Amies
Montinore Estate
Nick's Italian Cafe
NW Food & Gifts
The Oak
Oregon Stationers
Pacific Frame & Gallery
Pinot Vista Tasting Lounge
Pizza Capo
Pura Vida Cocina
R. Stuart & Co. Wine Bar
Serendipity Ice Cream
Shoe Mates Footwear & Repair
Terra Vina Tasting Room
Third Street Books
Third Street Oil & Vinegar
Timmerick & McNicol Jewelers
Tommy's Bicycle Shop
Troon Vineyards
Two Dogs Taphouse
Type A Press
Union Block Coffee
Velvet Monkey Tea
The Vortex
Wildwood Cafe