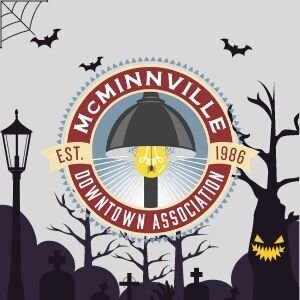 Dates for 2023 Coming Soon!
Halloween on Historic 3rd Street
Important Dates – TBD
October 9: Registration forms are DUE.
Lamp posts will be assigned no later than Oct. 9, though earlier entries will likely get their assignments sooner.
October 11: Scarecrows must be installed.
October 12-29: Online voting!
October 31: Winners announced and prizes awarded.
November 3: Scarecrows removed.
Get Creative!
Use your imagination – traditional, humorous, or contemporary – and be creative! Depict a favorite fairy tale, animal, fantasy figure, movie or television character, or historic person – the possibilities are endless! Remember, this is a community celebration. The goal is to generate goodwill and a festive atmosphere. No political, off-color, or profane displays will be allowed.
Spooky Coloring Contest
Grab your crayons, markers, or paint and submit your masterpiece to be entered to win!
Pick up a coloring sheet from First Federal, McMinnville Library, or download it below.
IMPORTANT DATES
October 8: Contest opens.